Contact Us
Email
Offices
University of California San Diego
Qualcomm Institute: Atkinson Hall
6306 Atkinson Hall
9500 Gilman Drive
La Jolla, CA 92093
School of Arts and Humanities
Office of the Dean, Arts and Humanities Building 10th floor
9500 Gilman Drive, MC 0406
La Jolla, CA 92093
Co-Directors
Craig A. Callender
Department of Philosophy, Arts and Humanities Building
(858) 822-4911
ccallender@ucsd.edu
John H. Evans
Department of Sociology, Social Sciences Building
(858) 534-4972
jhevans@ucsd.edu
Staff
Eva Thiveos
School Business and Data Officer
Office of the Dean, School of Arts and Humanities
(858) 537-8832
ethiveos@ucsd.edu
Tara L. Nadeau
Program and HR Manager
Office of the Dean, School of Arts and Humaniteis
(858) 822-4973
tlnadeau@ucsd.edu
Reanna Sweis
Project and HR Coordinator
Office of the Dean, School of Arts and Humanities
(858) 534-0380
rsweis@ucsd.edu
Directions to the Qualcomm Institute: Atkinson Hall
The Qualcomm Institute is located in Atkinson Hall on the UC San Diego campus at the corner of Voigt Drive and Equality Lane. Please select an option below for details.
Via Interstate 5 Taking the Genessee Avenue Exit
Take Interstate I-5 and exit at Genessee Avenue
Go west on Genessee (From I-5 North, it is a right turn; from I-5 South, it is a left merge)
Turn left at North Torrey Pines Road
Turn left at North Point Drive
Follow North Point Drive as it curves right and turns into Hopkins Drive
Follow Hopkins Drive to the intersection with Voigt Drive
Continue straight and park in the Hopkins Parking Structure (up the hill on your right)
Be sure to purchase a parking pass and park in a "V" spot
From the parking structure, walk back down the hill to Atkinson Hall
Pass through the pedestrian tunnel to the main entrance off the courtyard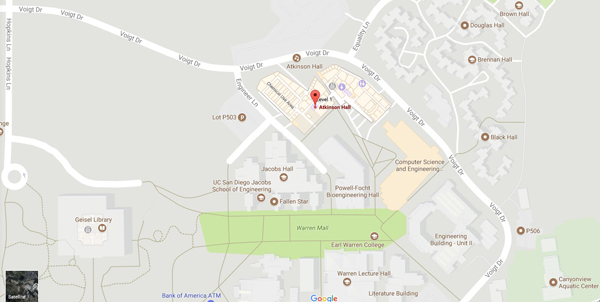 View the campus parking map here.